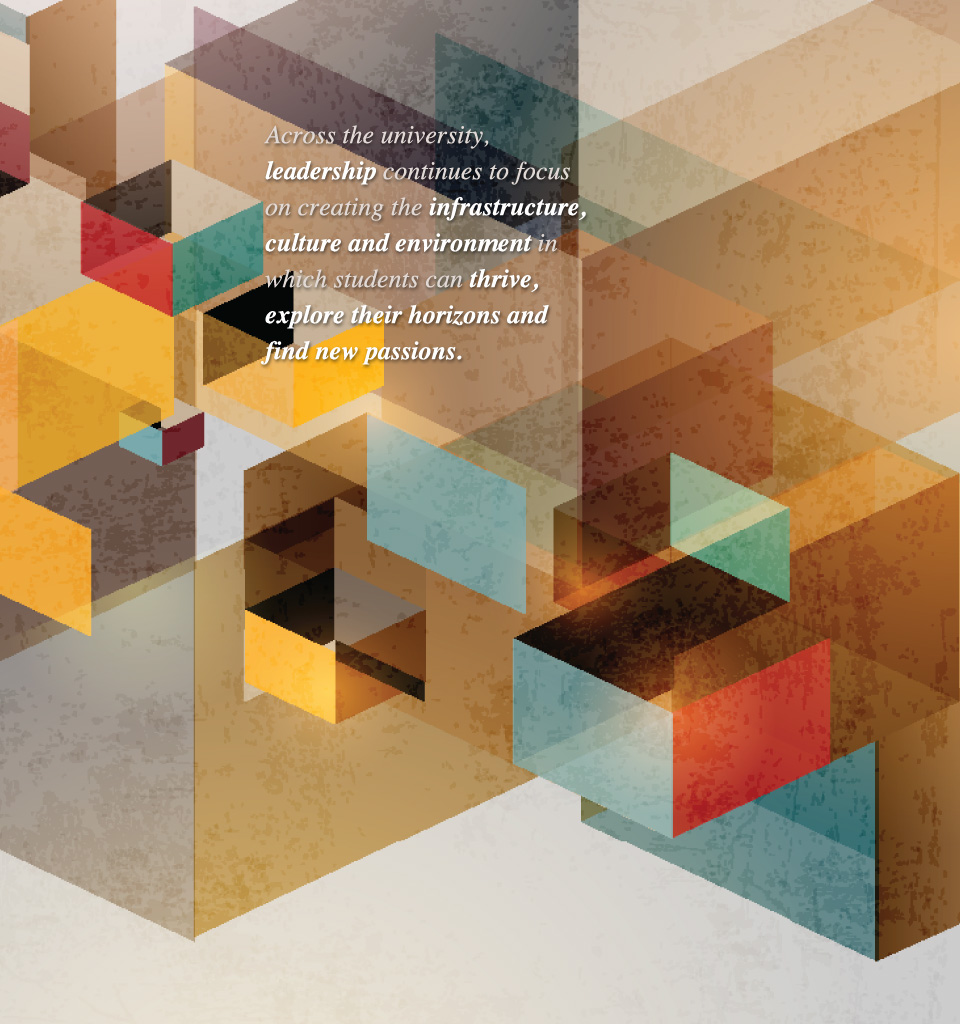 Across the university, leadership continues to focus on creating the infrastructure, culture and environment in which students can thrive, explore their horizons and find new passions.

Graduation rates continue to soar
The National Student Clearinghouse Research Center indicates an overall level of 54.1 percent of students who enrolled in 2006 graduated within six years. VCU has seen positive trends in six-year graduation rates from 53.7 percent in 2011-12 to 57 percent in 2013-14, much thanks to an emphasis on the first-year cohort experience, enhanced advising and academic support services offered to students.
Women, minorities and STEM
VCU is being recognized nationally as a major force in producing a talented and diverse array of graduates entering careers in STEM fields.
In July, the American Society for Engineering Education ranked the School of Engineering as the nation's No. 9 engineering school or university based on the percentage of doctoral degrees awarded to women. VCU was the only institution in Virginia to be ranked among the top 10 in ASEE's newly published edition of "Profiles of Engineering & Engineering Technology Colleges."
The School of Engineering awarded 32.1 percent of its doctoral degrees to women in 2013. That is 10 percent higher than the national average.
In September, the Department of Chemistry in the College of Humanities and Sciences placed No. 6 in a national ranking by the National Center for Educational Statistics of undergraduate chemistry degrees awarded to women.
VCU's 2013 class of chemistry students was 58 percent women. In recent years, the department's ranking in terms of B.S. degrees awarded to women has climbed significantly. It ranked No. 12 in degrees awarded to women in 2012.
Additionally, the chemistry department ranked No. 3 among non-historically black colleges and universities in undergraduate degrees awarded to African-American students from 2011 to 2013, according to 2013 data compiled by the NCES. Overall, the department ranked No. 15 in undergraduate degrees awarded to African-Americans.
The department was ranked No. 12 nationally in the total number of undergraduate chemistry degrees awarded in 2013.
A focus on four
During fall 2013, the Division of Strategic Enrollment Management launched the "Do the math" communications campaign to reinforce to students the need to enroll in adequate credit hours each semester in order to complete their degrees in four years. Eighty-three percent of VCU freshmen signed up for at least 15 credit hours for the fall 2014 semester, up from 73 percent last year. Two years ago, before the program launched, that number stood at 61 percent. These comparisons indicate a shift in the behavior of students, who are now paying tuition based on the number of credit hours they are taking — and the long-term math indicates an overall lower cost for four years versus six, a strategy for lowering the amount of debt a student or family incurs.
The division also introduced students to tools such as the Course Scheduler and DegreeWorks, as well as offered students tips on managing their academic affairs (i.e., what questions to ask, how often to visit an adviser, etc.), all with the goal of helping students graduate on time and ultimately lessen the overall expense of their education. In addition, the team has established partnerships with groups such as Financial Aid TV — to help students and parents with the financial aid application process — and the American Student Assistance organization — to implement SALT, a free, nonprofit-backed educational program that provides financial literacy to students.

University creates space to flourish
ICA ground breaking
The nation's No. 1-ranked public university visual arts and design graduate program deserves a world-class showcase for the arts, and this year VCU broke ground on making it a reality: In June the Institute for Contemporary Art finally moved from concept to construction site.
Designed by one of the world's most important living architects, Steven Holl, the ICA will represent a vital, living landmark when the building is completed in 2016. This inspiring 43,000-square-foot space will encompass four main galleries, a performance center, classrooms, a sculpture garden and other facilities, providing spatial energy for important cutting-edge contemporary art exhibits, film screenings, lectures and symposia. It will also be a medium for global collaboration, bridging not only VCU School of the Arts' campus in Qatar, but also artists working in other regions internationally.
The ICA and its building, which will be called the Markel Center thanks to a generous gift from the Markel Corp., would not have been possible without the commitment of co-chairs Bill and Pam Royall and Steve and Kathie Markel, who have helped the ICA raise $26.4 million as of September 2014. As a stunning reminder of the power of public/private partnership, their passion for fostering the arts and artists has garnered a wealth of support and funding that has, more than anything else, made the ICA real.
Library expansion on the Monroe Park campus
A $50.8 million expansion of VCU's James Branch Cabell Library began in March. As part of the project, a new 93,000-square-foot building will be built and connected to the north and east sides of the existing Cabell Library, and an additional 63,000 square feet of the current library building will be renovated — all to address the immense traffic and demand that has emerged with the university's enrollment growth of more than 10,000 students since the library opened in 1975.
Scheduled to open in 2015, the expanded library will add a number of new services and capabilities, including the Innovative Media Studio to offer students access to high-end computing, a green-screen studio, audio and video recording and editing equipment, 3-D printing, and data visualization. A research center will provide the kind of capabilities that faculty and graduate students need for individual and collaborative work. Plans include more space dedicated to the library's special collections and archives, two classrooms and a significant amount of additional seating for students. The project will also add a public auditorium, which will seat up to 300 people.
High-quality living-learning experiences
When President Michael Rao, Ph.D., took office, one of his first initiatives was to establish a living-learning residence hall, ASPiRE (Academic Scholars Program in Real Environments), for students who are committed to community and civic service, such as mentoring children and revitalizing low-income communities. These students, from a broad range of disciplines and majors, participate in a common curricular focus on community engagement. It opened in fall 2012 and its first cohort, recognized with honors by the city of Richmond, graduated in May. ASPiRE's success was followed by a second hall, Globe, which opened in fall 2013 and houses students who are pursuing a global education and have made a commitment to serve diverse communities throughout the world.
Construction is underway for the next two living-learning residence halls, which will focus on leadership and innovation and are slated to open in August 2015.

Endowed scholarship honors former provost, supports students
An endowed scholarship to honor former VCU Provost Beverly Warren, Ed.D., Ph.D., the Beverly Warren Scholarship Fund, will provide scholarships for students from any discipline within the university and will honor Warren's commitment to accessibility and affordability in education.
Warren announced in January that she had accepted the presidency of Kent State University in Ohio. She had been at VCU since 2000, serving first as a professor and head of the Division of Health, Physical Education and Recreation, then later as dean of the VCU School of Education, and finally as provost beginning in 2011.
More than 100 donors, primarily current and retired VCU faculty and staff, have so far donated to the scholarship fund, which currently stands at more than $120,000 in gifts and pledges.

VCU ranked a top military-friendly campus
Victory Media's fifth annual Military Friendly Schools has ranked VCU among the nation's top 20 percent of military-friendly campuses including colleges, universities and trade schools.
VCU has nearly 1,200 military-affiliated students and more than 270 faculty and staff members, many of whom have served overseas. Recognizing the need to assist student veterans, the university created the office of Military Student Services in 2009. Since its founding, Military Student Services has launched programs such as the Green Zone, which trains faculty and staff members to deal with issues related to post-traumatic stress disorder and military deployments.
Many of VCU's student veterans take advantage of benefits such as the Post-9/11 GI Bill, which helps pay for tuition and housing. Military Student Services helps current and potential students with the application process and any issues that arise between VCU and the Department of Veterans Affairs.
VCU also offers priority registration to students who currently or have previously served. As of 2013-14, VCU was the only college in Virginia to offer this benefit.

VCU Police strive to cultivate a safe campus community
In early 2014, VCU Police Chief and Assistant Vice President for Public Safety John Venuti was named one of the top 13 national finalists for Campus Safety Director of the Year by Campus Watch Magazine. Venuti, his officers, partner agencies and the university community have all contributed to making the VCU campuses inviting and safe places for students and employees to live, learn and work.
VCU Police's 2013-14 "perception of safety survey" found that 94.6 percent of students, faculty and staff at VCU feel either "safe" or "very safe" on its campuses. VCU Police used data from the survey to help inform and then implement numerous upgrades. The department made adjustments to its personnel and deployments to be more effective; enlisted help from partner agencies, including the Richmond Police and Virginia State Police, to be highly visible during the start of the academic year; and partnered with University 101 instructors to introduce freshmen to campus safety as part of their course. Significant upgrades also were made to the existing video security systems on each campus to help deter and solve crimes; more than 90 percent of crimes have been solved since the cameras were installed.
The department has also emphasized its online presence to share information and departmental activities through Facebook and Twitter, and through LiveSafe, a mobile app that allows the VCU community to share information with the police department.
First in the nation
The International Association of Chiefs of Police has selected the VCU Police Department as first in the nation among colleges and universities for the organization's 2014 National Law Enforcement Challenge. The challenge recognizes law enforcement traffic safety programs for 2013, focusing on those that address issues such as impaired driving, occupant protection and speeding.
First in the commonwealth
VCU is the first public institution of higher education in Virginia to be certified as a crime prevention campus by the Virginia Criminal Justice Services Board. A certified crime prevention campus is required to have 11 core safety elements. Those include having a certified crime prevention specialist on staff, maintaining mutual aid agreements with other agencies, continuing compliance with the federal Jeanne Clery Act, having a crisis management plan in place and distributing campus safety information. It was noted by the board that VCU had "exceeded program requirements."
The department was also honored with the 2013 Governor's Transportation Safety Award in the law enforcement category for its commitment to safety on the road.
Regional training facility
The VCU Police Department received a $2.08 million grant from the commonwealth of Virginia to develop a regional law enforcement training facility geared toward campus law enforcement agencies. As Virginia's largest campus law enforcement agency, VCU Police is taking the lead on the regional facility, which will include instructional classrooms and facilities designed to simulate environments that VCU Police or other campus law enforcement officers might encounter, including expanded crisis intervention training for handling situations involving people with mental health challenges and Advanced Law Enforcement Rapid Response Training for active shooter situations. The grant was the largest awarded to any campus law enforcement agency and was behind only the Virginia State Police and the Virginia Department of Criminal Justice Services for all recipients.

Athletics, academics team up for success
The stature of VCU's athletics program has grown significantly over the past three years, especially with the move to the Atlantic 10 Conference, one of the most competitive conferences in the nation.
Over the past three years, seven programs reached the NCAA postseason and five programs earned top 25 rankings. More than 55 percent of student-athletes achieved GPAs of 3.0 or greater. The Academic Progress Rate of 970 is the highest ever for VCU and is well above the NCAA minimum score of 925. Four programs achieved a perfect score: men's basketball, men's soccer, field hockey and women's tennis.
Perfect practice
In the spring, VCU announced plans to build a $25 million, 60,000-square-foot basketball practice facility to be located adjacent to the Stuart C. Siegel Center.
The facility is part of VCU's effort to provide its student-athletes with the best possible experience and to provide coaches with the tools they need to continue to excel. Plans include practice courts and viewing decks for the men's and women's basketball programs, as well as locker rooms, a strength and conditioning center, a training room, a hydrotherapy room and video viewing rooms. In addition, it will feature student-athlete lounges, player dining rooms and an academic center. It will also house administrative suites and offices for both the men's and women's basketball coaching staffs. It is scheduled to open in fall 2015.
Division I leadership off the field
VCU's prominence in collegiate athletics has enabled President Michael Rao, Ph.D., to take a leadership role on the NCAA Division I President's Advisory Council at a critical time in the history of collegiate athletics with intense scrutiny on the role of student-athletes, conference alignments and regulatory issues.
7,450
7,450
total degrees and certificates awarded in FY14
1,609
1,609
students with Latin honors
57%
57%
six-year graduation rate
57%
57%
six-year graduation rate (African-American)
86.7%
86.7%
first-year retention rate
19
19
Fulbright student scholarships awarded from FY11 to FY14
83.2%
83.2%
freshmen enrolling in 15 or more credits per semester
171,768
171,768
total number of living alumni