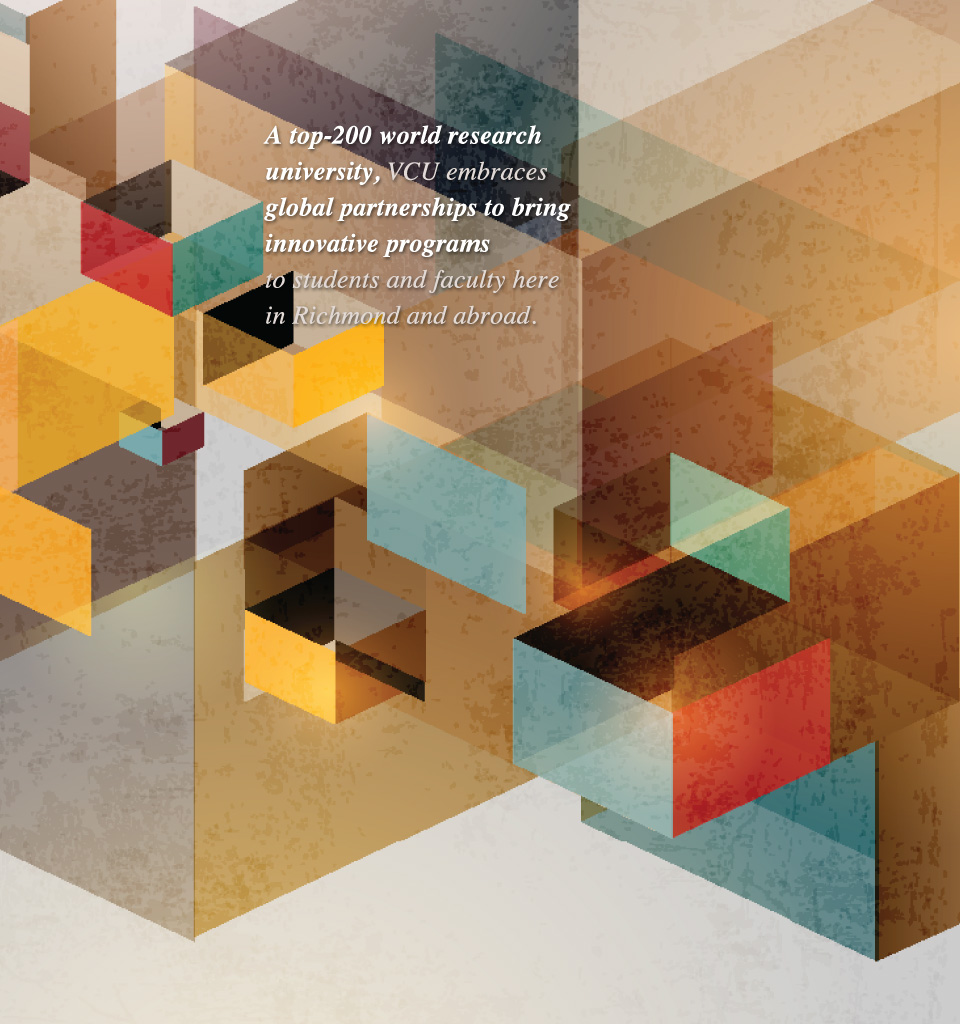 A top-200 world research university, Virginia Commonwealth University embraces global partnerships to bring innovative programs to students and faculty here in Richmond and abroad.

VCU strengthens partnerships in China
In June, VCU President Michael Rao, Ph.D., and McKenna Brown, Ph.D., executive director of the Global Education Office, along with other university officials, traveled to China to create and strengthen strategic partnerships with leading universities in the world's most populous nation.
For more than a decade, the VCU schools of Business, Engineering and World Studies, the Robertson School for Media and Culture, the Brandcenter and the departments of Psychology, Chemistry and History in the College of Humanities and Sciences have collaborated with colleagues at Fudan University in Shanghai in ways big and small. The two institutions have mutually benefited from collaborative research and academic programs and robust faculty and student exchange. This past summer, 26 students from Fudan visited the Richmond campus for VCU's American Studies Program, as an innovative new collaboration kicked off between Fudan's School of Journalism and VCU's School of Business, in which Brandcenter faculty will teach a master's degree program at Fudan.
While in China, the VCU team had the chance to visit other leading universities, including Peking University, which is one of Asia's most important research institutions, and Beijing Technology and Business University, which offers students one of the best educational experiences in China. In addition, the president met with almost 100 VCU alumni and admitted and prospective students who live, work and lead throughout China.
Pictured from left: McKenna Brown, Ph.D., executive director of the Global Education Office; Chengfang Hao, VCU alumna; Monica Rao; President Michael Rao; Hong Cheng, chair of the Robertson School of Media and Culture; and Guofang Wan, professor and director of graduate studies in the School of Education.

Social media takes a healthy approach
Through an innovative new online course, VCU students and members of the general public developed social media strategies for two global health care nonprofit organizations.
The class, Global Health and Social Media, was an open online course designed to give VCU students and public participants a chance to learn about social media campaigns for global health issues and to gain hands-on experience developing social media strategies for nonprofit clients.
The course was among the first at VCU to allow the general public to participate as students. It was offered by the Richard T. Robertson School of Media and Culture in the College of Humanities and Sciences in cooperation with VCU's newly established Center for Media+Health and in consultation with VCU's Academic Learning Transformation Lab.
As part of the course, the 120 enrolled VCU students and the roughly dozen nonstudent participants worked in teams to boost the social media presence of the Richmond-based World Pediatric Project, which links volunteer pediatric specialists with critically ill children in developing countries, and the Preemptive Love Coalition, which provides training for Iraqi medical professionals so they can address a backlog of Iraqi children waiting for heart surgery.
The class participants were divided into teams of six, and they competed to produce the best social media strategy plan. Representatives from the two nonprofit organizations picked their favorites at the end of the course.
The course involves online discussions, which were livestreamed via Google Hangouts, and recorded video lectures, and the VCU students were required to complete writing assignments, take brief quizzes and post on social media.

VCU builds U.S.-Iraqi relations
Twenty-three young Iraqis and 19 VCU students took part in VCU's fifth annual Social Media Institute, a four-week summer course in which teams of Iraqi and VCU students developed social media strategies on behalf of 10 nonprofit organizations, ranging from Richmond-area groups to an international nongovernmental organization.
The Iraqi students were selected as part of the Iraqi Young Leaders Exchange Program, which is sponsored by the U.S. government and administered by Meridian International Center. The program selects 125 promising young Iraqis each year to take part in four weeks of leadership training and classroom instruction at five universities in the U.S. VCU's Social Media Institute is co-sponsored by the Robertson School and the Global Education Office.
The program's long-term goal is to improve U.S. and Iraqi relations by supporting the future leaders of Iraq.
100+
100+
nations represented in VCU's student body
39
39
agreements with universities and teaching hospitals in 21 nations