44%
44%
Decline in
inpatient admissions
38%
38%
Decrease in
Emergency Department use
Did you know that the costliest 1 percent of patients consume one-fifth of all health care spending in the U.S.? And that chronic illnesses cost the commonwealth of Virginia $26 billion a year in lost productivity and $6 billion in treatment?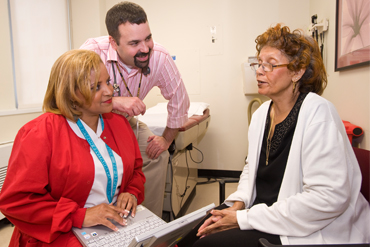 Staggering numbers to be sure, partly because complex patients don't have a single medical problem — they can have up to six or more chronic illnesses and tend to get their health care by visiting the emergency room, sometimes several times a month.
In 2011, VCU Medical Center's Virginia Coordinated Care program established the Complex Care Clinic to improve the quality of care and decrease the costs associated with the sickest patients, who often have financial, social and other barriers to accessing care.
"We've created this as a population health management initiative," said Sheryl Garland, M.H.A., vice president for health policy and community relations for VCU Medical Center. "This Complex Care Clinic is really our first venture into true management of a population. That's an example of innovation."
Complex Care Clinic staff members take a holistic approach, bringing together a team of health care professionals ranging from physicians to nurse practitioners to behavioral health specialists to pharmacists and social workers to create a circle of support around each patient. The intensely collaborative visit looks at the entire patient and takes into account the barriers to care in order to connect the patient to the right resources and services. The clinic's model, based on providing the needed expertise in a single location, engages the patient in their care and builds a relationship of trust. The gained trust becomes critical for driving the behavioral changes necessary to increase patient compliance with the treatment plan, avoid unnecessary emergency department visits, improve health and decrease costs.
Arline Bohannon, M.D. (left)

"Everyone should care about this program and the care of complex patients. It decreases the cost and improves the health of a population of patients with many resource-intensive conditions."

– Arline Bohannon, M.D.
"It takes a community to take care of a patient," said Marie Twiford, a case manager at the clinic. "If you don't have this team approach to figure out really what's going on beyond their medical diagnosis, you're not going to be successful."
In its first year, the Complex Care Clinic achieved a 44 percent decline in inpatient admissions, a 38 percent decrease in Emergency Department use and a 49 percent reduction in total hospital costs. This resulted in a total cost savings of $4 million and an average annual cost savings of $10,769 per patient. In addition to cost reductions, improvements in outcomes were documented for patients such as those with diabetes and hypertension.
"Everyone should care about this program and the care of complex patients," said Arline Bohannon, M.D., medical director of Virginia Coordinated Care. "It decreases the cost and improves the health of a population of patients with many resource-intensive conditions."
A patient recovers her quality of life through coordinated care
In February 2013, Gwendolyn Ward's legs were twice their normal size and starting to seep fluid. She found it difficult to walk and often felt short of breath. A caregiver at a day care for 30 years, Ward could no longer play with the 3-year-olds in her classroom.
"I could not walk from my house to the bus stop," Ward, 60, said. "I couldn't walk from the bus stop to work. My sister came to pick me up from work one day and saw the difficulty I had just getting in the car. She said I had to go to the emergency room."
While at VCU Medical Center, Ward learned she had chronic kidney disease and an irregular heartbeat, as well as high blood pressure, esophageal reflux and gout. Hospital staff referred her to the Complex Care Clinic, where a team of medical professionals developed a plan of care and treated all of her conditions in one place, at one time.
"They tell me what's going on," Ward said. "You can ask questions about what they're saying and what you're seeing in your body and they will explain it to you and make it as understandable as possible. I love that."
In addition to being seen regularly at the clinic, Ward participated in a diabetes management program, adjusted her diet and started exercising. She has improved tremendously, according to Arline Bohannon, M.D.
"At first, she had to be rolled in, in a wheelchair," said Stacy Jones, a nurse practitioner in the clinic. "Now, she walks in."