100
100
Number of times per day Rapid Response Team uses system
650+
650+
Number of hospitalized patients' data able to be monitored
In 2012, VCU Medical Center's Office of Clinical Transformation, in concert with a group of ambitious clinicians and leaders, created a customized early warning system to quickly identify changes in critically ill patients.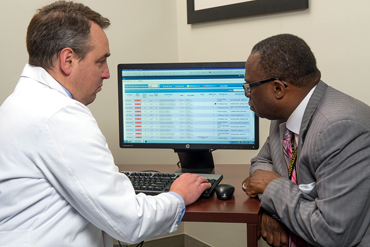 Developed by Colin A. Banas, M.D., M.S.H.A., chief medical information officer, a team of clinicians and information technology staff, the system pulls data from the patient's electronic records to alert providers to potential changes in the patient's condition. The system empowers the medical center's Rapid Response Team, a group of clinicians who are in the hospital 24/7, to effectively triage and visit the most critically ill patients before their conditions deteriorate.
"We recognized a need to give our front-line clinicians and Rapid Response Team a real-time monitoring system that continuously measures patient acuity and severity," Banas said. "The Rapid Response Team no longer waits to get the call from a nurse or doctor with a patient in distress. Instead, they are accessing the dashboard on mobile devices and arriving at the bedside to assess and intervene, sometimes ahead of the primary team and nurse."
"It's a combination of people, process and technology that really helps drive this home."

– Colin Banas, M.D.
Key features of the homegrown initiative include:
Real-time data and rules logic constantly querying the physiological data (heart rate, temperature, blood pressure, etc.) of more than 650 hospitalized patients in a dashboard format
Seamless integration into the existing electronic medical record
Interactive dashboard feature for sorting and trending patient information
Mobile access with any electronic device including laptops and tablets
Two separate systems – one for adult patients and a similar one for pediatric patients
The medical center's early warning system has inspired other health systems to incorporate dashboard-type intervention, Banas said. In its first year of use, response from health care providers at VCU Medical Center has been positive. Providers access the innovative system nearly 100 times daily. The number of patients visited by the Rapid Response Team increased from 915 to 1,659 in the first year of implementing the system, and the number of patient "code blues" occurring outside of an intensive care unit has declined 20 percent. In short, sicker patients are being recognized and escalated to an appropriate level of care in a more timely manner.
"It's a godsend," Banas said of the early warning system. "It's hard to attribute any one intervention to success stories, but we had a 7 percent reduction with in-house mortality in the first year of having the tool. So I think it's a combination of people, process and technology that really helps drive this home."