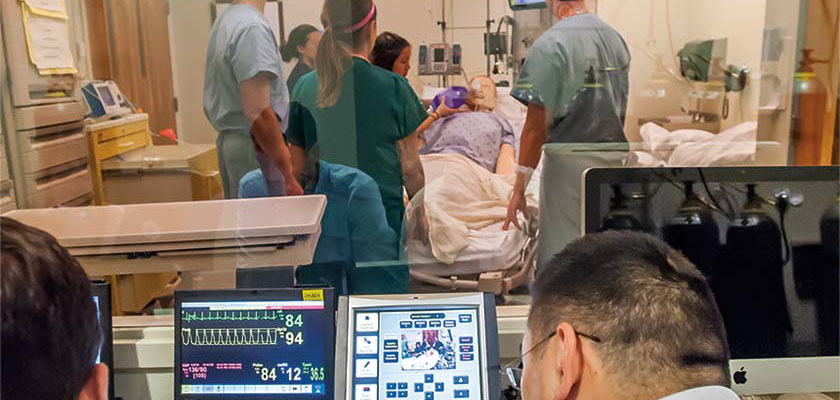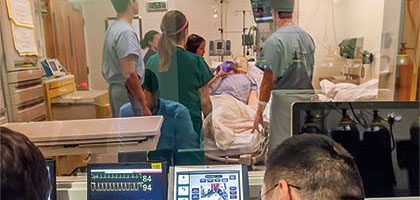 Headlines
Day in and day out, our staff members excel in their fields and contribute to award-winning work. Here's a look at some of our noteworthy individuals and accomplishments over the past year.
VCU one of 35 federal Ebola treatment centers in U.S.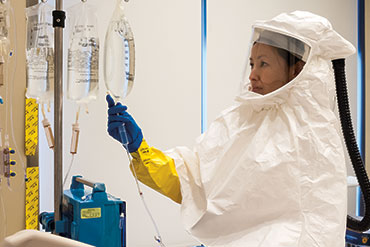 As Ebola swept West Africa in 2014, VCU Medical Center stood ready to treat any suspected cases in Virginia. It was named one of 35 Ebola treatment centers in the nation by the U.S. Department of Health and Human Services, in part because of its standing as a Level 1 trauma center.
VCU Medical Center's Emergency Department has a special area for assessing patients and a multidisciplinary team trained to screen, triage and treat cases of Ebola.
The hospital also worked closely with the Centers for Disease Control and Prevention to ensure it meets standards of care for infectious diseases.
$17 million award allows VCU, partners to improve clinical trials for TBI
VCU researchers received a $17 million grant in October to work on improving clinical trials for traumatic brain injury (TBI), a condition that affects more than 2.5 million people in the U.S. each year and has no proven treatment. The five-year grant is part of a public-private partnership funded by the U.S. Department of Defense.
It pulls together a research team to examine data from thousands of patients and identify effective measures of brain injury and recovery using biomarkers from blood, new imaging equipment, software and other tools. The new research initiative, called the TBI Endpoints Development (TED) Award, joins leading academic clinician-scientists, industry leaders in biotechnology and imaging technology, patient advocacy organizations, and philanthropies.
Their aim is to actively involve the Food and Drug Administration in clinical-trial design from the outset as a way to improve how the effectiveness of TBI drugs and medical devices are measured. David X. Cifu, M.D., the Herman J. Flax, M.D. Professor and chairman of the Department of Physical Medicine and Rehabilitation, and Randall E. Merchant, Ph.D., executive director of the VCU Center for Rehabilitation Science and Engineering, are serving as co-principal investigators for the grant.
"The TED project will help to shape the landscape of future TBI research by establishing universal, standard outcome measurement tools for all future federally funded TBI research," Cifu said.
Massey receives $4.4 million NIH cancer trials grant
VCU Massey Cancer Center received a $4.4 million grant from the National Cancer Institute (NCI) in August 2014 to support a statewide network for cancer clinical research in Virginia.
The five-year renewable grant, which was awarded to only 12 institutions nationwide, emphasizes the inclusion of minorities in clinical trials and focuses on research that addresses cancer disparities. It positions Massey as the academic, lead component of a Minority/Underserved NCI Community Oncology Research Program (NCORP-MU), which provides cancer patients access to prevention, early detection and treatment clinical trials as well as cancer-care-delivery research.
Leading NCORP-MU at Massey are co-principal investigators Charles Geyer Jr., M.D., the Harrigan, Haw, Luck Families Chair in Cancer Research and associate director for clinical research at Massey; Harry Bear, M.D., Ph.D., medical director of Massey's Clinical Trials Office and the Dr. Walter Lawrence, Jr., Distinguished Professor in Oncology in the School of Medicine; and Cathy Bradley, Ph.D., the RGC Professor for Cancer Research and associate director for cancer prevention and control at Massey.
VCU Medical Center has most Beacon award-winning units in the U.S.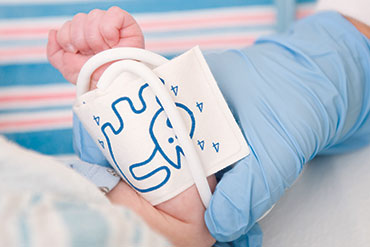 The Orthopaedic Surgery Unit, Women's Surgical Care Wing and Newborn Intensive Care Unit received gold-level Beacon Awards from the American Association of Critical-Care Nurses (AACN) in 2014, making VCU Medical Center owner of the most Beacon award-winning units in the nation with a total of eight.
The Beacon Award for Excellence recognizes unit caregivers who successfully achieve superior patient outcomes and model AACN's healthy work environment standards. Other units with that status include:
Acute Care Surgery Unit
Cardiac Surgery ICU
Hume-Lee Transplant Center
Medical Psychiatry Unit
Bone Marrow Transplant Unit
VCU Pauley Heart Center to participate in American College of Cardiology's Patient Navigator Program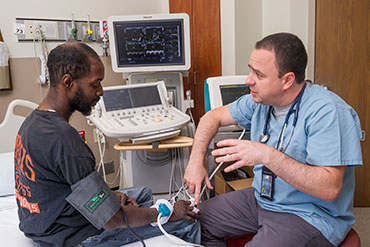 VCU Medical Center's Pauley Heart Center is at the forefront of working with cardiology patients on self-care in an effort to reduce heart attacks and heart failure readmission rates and to improve overall patient care.
In October, the medical center became one of 35 nationwide to participate in an American College of Cardiology program that applies a team-based approach for keeping patients at home and healthy after hospital discharge.
In the U.S., nearly one in five patients hospitalized for a heart attack and one in four patients hospitalized with heart failure are readmitted within 30 days of discharge. Readmissions can be related to issues such as stresses within the hospital, fragility on discharge, lack of understanding or inability to carry out discharge instructions.
The Pauley Heart Center's initiative includes developing group clinics to educate patients on self-care of complex diseases, such as coronary artery disease and congestive heart failure. Patients will interact with multidisciplinary care teams, including nutritionists, nurses, social workers and pharmacists, all who specialize in heart failure.
"An increased focus on education, nutrition and communication with patients when they are at a very vulnerable point in their care is critical," said Michael Kontos, M.D., director of the VCU Pauley Heart Center's Coronary Intensive Care Unit and the Cardiovascular Professor in the VCU School of Medicine. "We believe the additional support this program offers will assist us in these efforts, and substantially improve patient care and reduce readmissions."
Gordon Archer, M.D., senior associate dean for research and research training in the VCU School of Medicine, was appointed to the National Institutes of Health's Clinical Center's Board of Scientific Counselors.
---
Colin A. Banas, M.D., M.S.H.A., chief medical information officer for VCU Health System's Office of Clinical Transformation, was chosen as one of 15 Health IT Fellows by the Office of the National Coordinator for Health Information Technology within the U.S. Department of Health and Human Services.
---
David X. Cifu, M.D., the Herman J. Flax, M.D. Professor and chair of the Department of Physical Medicine and Rehabilitation, and executive director of the VCU Center of Researcher Sciences and Engineering, received the 2014 Outstanding Faculty Award from the State Council of Higher Education for Virginia and Dominion Resources.
---
Joseph T. DiPiro, Pharm.D., began his tenure as the Archie O. McCalley Chair and dean of the VCU School of Pharmacy July 1, 2014. He also was named president-elect of the American Association of Colleges of Pharmacy and will serve as president from 2016-17.
---
John F. Duval, vice president for clinical services and CEO of VCU Hospitals, began his tenure as chair of the Accreditation Council for Graduate Medical Education's board of directors in September 2014. He will hold the position through 2016.
---
Paul B. Fisher, M.Ph., Ph.D., professor and chair of the Department of Human and Molecular Genetics, director of the Institute of Molecular Medicine and the Thelma Newmeyer Corman Endowed Chair in Oncology Research at Massey Cancer Center, received Virginia's Outstanding Scientist of 2014 award.
---
Jean-Venable "Kelly" R. Goode, Pharm.D., professor in the Department of Pharmacotherapy and Outcomes Science and director of the VCU School of Pharmacy's Community Pharmacy Practice and Residency Program, was named president-elect of the American Pharmacists Association.
---
Lauren Goodloe, Ph.D., assistant dean for clinical operations for the VCU School of Nursing, was honored with the Virginia Nurses Association's highest award, the Nancy Vance Award.
---
Curtis N. Sessler, M.D., the Orhan Muren Distinguished Professor of Medicine in the Department of Internal Medicine, was named president of the American College of Chest Physicians.
---
George W. Vetrovec, M.D., professor in the Department of Internal Medicine and director of the Adult Cardiac Catheterization Laboratory at VCU Medical Center, was designated a Master of the American College of Cardiology.
---
Richard P. Wenzel, M.D., M.Sc., professor in the Department of Internal Medicine, received the International Federation of Infection Control's 2014 Martin S. Favero Award.