For the children
Richmond, Virginia's, youngest patients and their families won't have to wait long to take advantage of incredible expansions to pediatric care in the region. New buildings, a major gift and other milestones marked a spectacular year for Children's Hospital of Richmond at VCU (CHoR).
In December 2014, CHoR accepted an unprecedented $28 million gift from Children's Hospital Foundation to build a children's cardiac surgery program. The gift means that families will have access to specialized pediatric cardiology services in Richmond instead of having to travel outside of the region for heart surgery. It also marks the largest contribution to children's health in VCU's history, and the second-largest publicly announced gift to VCU's MCV Campus.
VCU Medical Center responded to the gift with a pledge of $14 million for the technology and equipment needed to run a full cardiac thoracic surgery program.
The newly named Children's Hospital Foundation Heart Center is already in motion with the hiring of Thomas Yeh, M.D., Ph.D., chief of pediatric cardiothoracic surgery at CHoR.
The center's physicians will operate on children of all ages who have congenital and acquired heart disease. Its services will range from chest wall defect operations and minimally invasive procedures to transplants, valve replacements and device installations.
The gift equips Yeh to deliver comprehensive, 24/7 cardiac surgical care to children in the region. The addition of this specialty in the Richmond area also means local families won't have to deal with the disruption of travel during a stressful time.
"There is no reason a city of Richmond's size should not be able to offer its sickest children open-heart surgery," Yeh said. "Until today, that need was incompletely met."
The move to Richmond served as a homecoming for Yeh, who trained at VCU Medical Center for his general surgery and cardiothoracic surgery residencies and earned his Ph.D. in physiology at VCU. His nearly 20-year career includes thousands of successful pediatric cardiac surgeries.
"The full circle of this moment has a surreal and spiritual quality for me," Yeh said. "To provide this highly specialized care for Richmond's children and to give back, I think, is probably my life's greatest honor."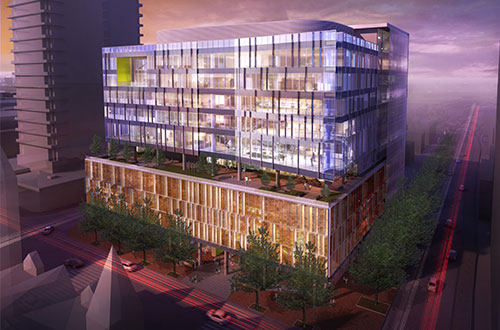 CHoR at VCU celebrates major construction milestone with "Topping Out" ceremony
CHoR "topped out" its Children's Pavilion on Dec. 1, 2014, marking the placement of the highest steel beam of the 15-story structural frame. The $168 million, 640,000-square-foot facility, scheduled to open in 2016, will serve as the region's most advanced outpatient facility dedicated to children. The pavilion will house 72 exam rooms; a surgical area with two operating rooms and two procedure rooms; areas for diagnostic testing, imaging and laboratory services; as well as family amenities, retail space and faculty offices. An attached parking garage will offer more than 600 spaces.
VCU begins construction of new children's psychiatric facility
VCU Medical Center broke ground Dec. 11, 2014, on the Virginia Treatment Center for Children, a 120,000-square-foot, 32-bed pediatric psychiatric facility. It's slated for completion by fall 2017 on CHoR's Brook Road Campus. The facility will provide increased access to clinical care for children from across the state and will house inpatient units, an outpatient behavioral health office, a Children's Mental Health Resource Center and the Commonwealth Institute for Child and Family Studies.