A new partner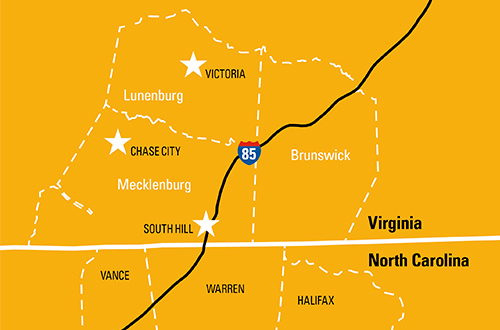 Imagine yourself or a loved one in the final stages of pregnancy, facing a drive up to 50 miles to the nearest medical facility to deliver a baby. Or, consider coping with a chronic, lifelong pulmonary illness, for which the nearest specialist is hours away.
"And that's if you live right here in South Hill [Virginia]," said Scott Burnette, president and CEO of VCU Community Memorial Hospital (CMH). "In most cases, for the areas we serve, you've got a much longer drive to make."
Thanks to a new affiliation between CMH and VCU Medical Center, individuals living in Southside Virginia and northern North Carolina no longer will face this dilemma. Effective July 1, 2014, a 25-year history of collaboration between the two organizations culminated in a partnership that extends the reach of VCU Medical Center's world-class services to South Hill while infusing CMH with more than $75 million in strategic investments — including a new hospital facility.
It also means VCU acquired seven affiliated clinics: two primary care practices and five clinics specializing in orthopaedics, pain management, surgical services, urology and women's health.
"I am particularly proud to partner with CMH, because they share our passion for industry-leading service, medicine, research and a commitment that's really about people," said Michael Rao, Ph.D., president of VCU and VCU Health System.
Burnette said excitement is building among both CMH employees and area residents ahead of a summer 2015 groundbreaking for the new VCU-CMH hospital.
"There is probably not a life in South Hill, or the four surrounding counties, that has not been touched in some way by this facility," said John F. Duval, vice president for clinical services and CEO of VCU Hospitals.
The new hospital will host much-needed technologies and clinical initiatives in the area. VCU Medical Center and CMH are committed to recruiting physicians and establishing new specialties and services, and have already brought OB-GYN access back to the region.
"This partnership unifies CMH, a steadfast provider of high-quality health care to the area for more than 60 years, with one of the nation's leading academic medical centers, joining their causes for curing diseases through innovative research and education," said Sheldon M. Retchin, M.D., M.S.P.H., former senior vice president for health sciences and former CEO of VCU Health System.
As CMH seeks to expand its 800-employee base — already the largest in the region — Burnette said recruiting has grown much easier with VCU's backing.
"Providers realize that they've got an academic health center here to back them up," he said. "Instead of telling them that they're going to be part of a two-man team within a certain discipline, which is the case with a lot of small hospitals, you give them the assurance that they're part of a 20-person unit tied to the support of a medical system with 9,000 employees."
VCU Community Memorial Hospital
46,576
46,576
Diagnostic procedures
8,603
8,603
Health and wellness encounters
144,472
144,472
Laboratory tests (inpatient and outpatient)
Services provided
42,908
42,908
Cardiac rehabilitation
6,538
6,538
Home health visits
20,329
20,329
Hospice visits
7,345
7,345
Occupational and speech therapy
7,299
7,299
Oncology treatments
23,604
23,604
Physical therapy
28,532
28,532
Respiratory therapy
Patients served (by county)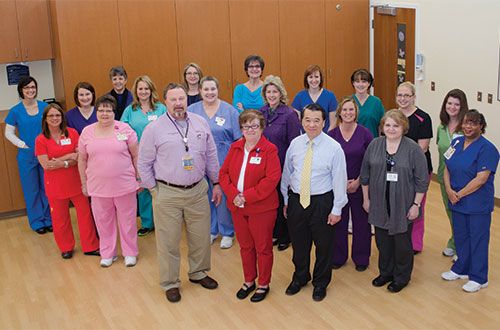 An ongoing relationship
VCU Medical Center's relationship with CMH dates back 25 years to when VCU Massey Cancer Center provided medical oncology care at the hospital, from 1989 to 2004, through its Rural Cancer Outreach Program. Massey began a new partnership with the hospital in 2012, once again providing medical oncology services. Together, the two organizations opened the first and only radiation treatment facility in Southern Virginia a year later, in 2013.
"The Massey team is pleased to expand our affiliation with Community Memorial Hospital. It's been a long and strong partnership between our two organizations, and so coming closer together through this latest affiliation is very rewarding," said Gordon D. Ginder, M.D., Massey's director. "In addition to providing quality cancer care at CMH, we're thrilled to introduce radiation therapy to the region and to bring local cancer patients added and advanced treatment options through Massey-led innovative clinical trials based on scientific discoveries."