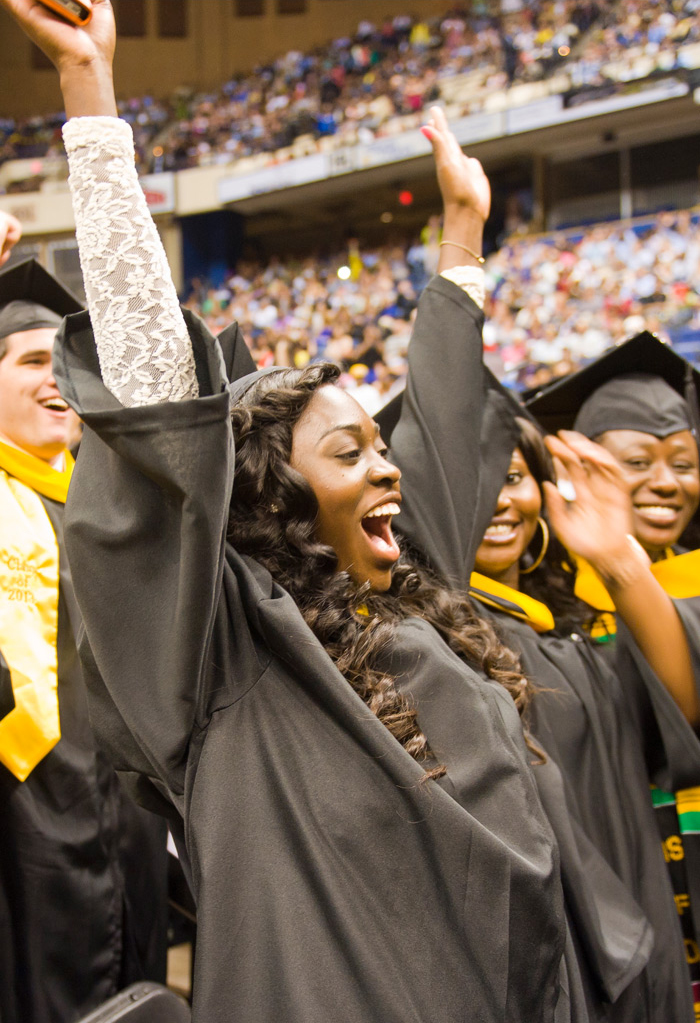 Faculty and student excellence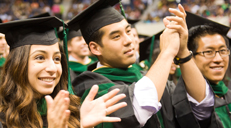 VCU focuses on improving six-year graduation rates
As part of their efforts to fulfill the ambitions of Quest for Distinction, leaders at VCU have focused on improving the rate at which students graduate within six years of first enrolling. In 2008, only 47 percent of students graduated on time. Today, 56 percent graduate in that time frame.
Graduation rates are increasing across all student demographics, including among diverse populations. The graduation rate for African-American students has improved by more than 15 percentage points since 2004, and the rate has increased by more than 22 points over the same period for Hispanic students.
VCU continues to attract motivated students who can succeed at a national research university: The average high school GPA among entering freshmen has risen from 3.27 to 3.52 over the past five years. More of these students stay at VCU, too. The university's freshman retention rate has improved from 82 percent in 2008 to 86 percent today.
In total, 7,372 students graduated from VCU in 2012-13, a record for the university. That includes 324 doctoral degrees, 434 first professional degrees and 1,658 master's degrees. VCU awarded about 19 percent more degrees than it did five years ago, despite an enrollment that is 2 percent smaller. The number of students who graduate with Latin honors continues to increase as well. In 2011-12, 1,504 students earned this achievement. In 2012-13, that number jumped to 1,611.
Watch video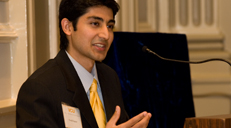 VCU increases its number of Fulbright scholars
Six recent VCU graduates were awarded Fulbright U.S. Student Program scholarships to travel abroad during the 2012-13 academic year, bringing the total number of students and recent alumni to receive the prestigious awards to 23 since 2006. Recent awardees include:
Julie Charbonnier, who will collaborate with a Spanish scientist to investigate the ecological consequences of climate change on amphibians in Southern Spain
Cole Cridlin, who will teach English in the suburbs of Paris at the Lycée Evariste Galois à Sartrouville
Tschuna Gibson, who will serve as a teaching assistant for high school-aged students while attending courses at the University of Vienna
Joel Kabot, who will travel to Ukraine to conduct the background research necessary to complete a novel
Kunal Kapoor, who will study for a Master of Science degree in medical anthropology from Durham University in the U.K.
Catherine Porter, who will travel to the Democratic Republic of Congo to interview residents about the Katangan secession that occurred in the country in the early 1960s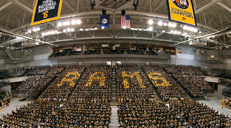 Strategic decisions regarding diversity and enrollment bring recognition and opportunities
VCU's reputation as a leader in diversity expanded with several accolades and a new division created to further its model efforts. The Division for Inclusive Excellence was launched under the direction of Wanda S. Mitchell, Ed.D., founding vice president for diversity and equity. The division focuses on strengthening VCU's climate of equity, diversity and inclusiveness even further, and is responsible for implementing a five-year diversity plan.
VCU received the first Higher Education Excellence in Diversity award from INSIGHT Into Diversity magazine. Meanwhile, The Chronicle of Higher Education named VCU one of three institutions in the nation "that has made great strides in education success for black and Hispanic students." A pair of reports released by The Education Trust in September 2012 recognized VCU as one of the nation's top colleges and universities for boosting graduation rates and closing the graduation rate gap for both black and Hispanic students. VCU also was named a recipient of the 2012 Minority Access Role Models Award for its commitment to recruiting, retaining and advancing students and employees from a diverse applicant pool, placing it among only 27 institutions nationally to achieve the designation. Additionally, the university was listed among the 30 best non-historically black colleges and universities for minorities by Matthew Lynch, Ph.D., department chair and associate professor of education at Langston University.
The Division of Strategic Enrollment Management welcomed Luke D. Schultheis as its new vice provost in August 2012. He oversees the implementation of VCU's strategic enrollment management tool, ensuring that the university's student body reflects the academic strength and diversity that is commensurate with VCU's status as a top 50 research institution.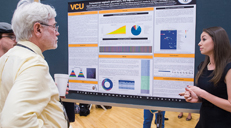 Research Week garners highest participation rate
In April, undergraduate and graduate students exhibited their research during VCU's Third Annual Student Research Week. The event was sponsored by the VCU Undergraduate Research Opportunities Program, VCU Graduate Student Association, the VCU Office of Research and the VCU Office of the Provost. The event marked its highest participation rate and number of exhibitors: 200 students were on hand to share and discuss their work.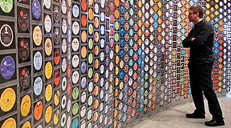 Two VCU professors earn Guggenheim Fellowships
Two professors in the School of the Arts were named 2013 recipients of the Guggenheim Fellowship, one of the top awards available to artists in the U.S. and Canada.
Sonali Gulati, associate professor in the Department of Photography and Film, and Siemon Allen, assistant professor in the Department of Sculpture and Extended Media, were selected as fellows. Since 2002, 12 VCU professors and alumni have received the esteemed award.
Gulati, a filmmaker and educator who grew up in India, has made films that have screened at more than 300 film festivals worldwide. Gulati's most recent film, "I Am," won 13 awards and continues to exhibit extensively in the film festival circuit.
Allen, a South African artist, was awarded a 12-month fellowship to work with institutions and individuals to further his documentation of South African material, adding digital images to a Web-based database he has developed and expanding the visual archive and discography of South African material.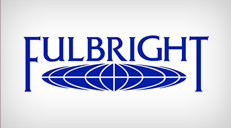 Four grants extend VCU's global reputation
Four professors, three from the College of Humanities and Sciences and one from the School of Business, received Fulbright scholar grants for the 2013-14 academic year to travel abroad, extending VCU's worldwide reputation.
Note: This article was originally produced in the summer of 2013. In the days following the publication of the President's Annual Report, Daniel Perdue, Ph.D., died of pancreatic cancer. He was the author of "Debate in Tibetan Buddhism" (Snow Lion Publications, 1992) as well as "The Course in Buddhist Reasoning and Debate" (Shambhala), scheduled for publication in spring of 2014.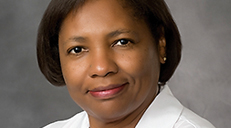 Sixth VCU member joins prestigious institute
PonJola Coney, M.D., director of the VCU Center on Health Disparities and professor of obstetrics and gynecology in the VCU School of Medicine, was among 70 new members to be elected to the Institute of Medicine — one of the highest honors in the fields of health and medicine.
Coney becomes VCU's sixth member of the prestigious institute, which recognizes individuals who have demonstrated outstanding professional achievement and commitment to service. She is noted for building an impressive pipeline program at VCU for minority students in the health sciences and fostering a robust federally funded program.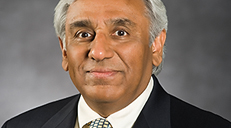 SCHEV honors outstanding VCU researcher
The State Council of Higher Education for Virginia honored Shiv N. Khanna, Ph.D., Commonwealth Professor in the Department of Physics, by naming him a 2013 recipient of its Outstanding Faculty Award. Khanna, who is a leader in the field of clusters and nanoscience, was among 11 honored for excellence in teaching, research, knowledge integration and public service.
VCU recruits expert leaders across campus
Barbara D. Boyan, Ph.D., renowned researcher and entrepreneur, and a member of the prestigious National Academy of Engineering, was named dean of the VCU School of Engineering. She joins the university from Georgia Tech, where she served as the associate dean for research and innovation in its College of Engineering, held an endowed chair in tissue engineering and served as a professor in the departments of biomedical engineering at both Georgia Tech and Emory University. Boyan also has authored more than 370 peer-reviewed papers, reviews and book chapters, and holds 14 U.S. patents.
Claudia Emerson, distinguished professor, poet and Pulitzer Prize winner, joined the VCU Department of English where she serves as professor, teaching graduate and undergraduate creative writing workshops and courses in literature and poetics. She was awarded the Pulitzer Prize in poetry in 2006 for her third collection of poetry, "Late Wife," and was selected in 2008 by then-Virginia Gov. Timothy Kaine as Poet Laureate of Virginia.
Lisa Freiman, Ph.D., was appointed inaugural director of the new Institute for Contemporary Art. Previously senior curator and chair of the contemporary art department at the Indianapolis Museum of Art, she also will be a professor in VCU's School of the Arts. An internationally recognized curator and leader in the contemporary art field, she transformed the experience of contemporary art during her 10 years in Indianapolis. Freiman also helped raise more than $10 million to support contemporary exhibitions, programs, collection development, scholarship and other initiatives at the IMA.
Jean Giddens, Ph.D., R.N., FAAN, a nationally recognized expert in nursing education, curricula and evaluation, was named dean of the School of Nursing. She served as professor and executive dean of the College of Nursing at the University of New Mexico. The author of numerous journal articles, nursing textbooks and electronic media in nursing education, Giddens is widely recognized for creating innovative teaching and learning models in nursing sciences, including The Neighborhood, a Web-based virtual community used to enhance integrative approaches in nursing education.
Helayne Spivak, acclaimed veteran creative director in the advertising industry, was named the new director of the VCU Brandcenter. The Brandcenter, which serves as the university's marketing communications and advertising graduate program, also moved to join the School of Business. Spivak's career includes such high marks as serving as chief creative officer of Saatchi & Saatchi Wellness and leading the creative departments at Hal Riney, Young & Rubicam New York, Ammirati Puris Lintas New York and JWT New York. She's earned numerous creative awards, including the One Show, the Art Director's Club and the Cannes Gold Lion, and received the prestigious Matrix Award for Women in Communications.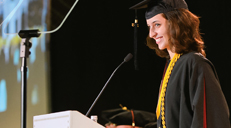 VCUQatar student earns valedictorian and President's Scholar honors
Leila Natsheh set foot on VCU's campus in Richmond, Va., only once. But in May 2013, she became one of the university's brightest graduates when she was named valedictorian of the Class of 2013 at VCUQatar, earning her bachelor's degree in graphic design.
Born in Budapest, Hungary, to a Hungarian mother and Palestinian father, Natsheh has focused on studying graphic design since childhood and was a ninth-grader in Doha, Qatar, when she decided she would enroll at VCU "because of its international reputation for excellence in the arts," she says.
Natsheh excelled, graduating not only as valedictorian among VCUQatar's 44 students, but also as the first VCU student ever honored as a President's Scholar at Education City. President's Scholars are recognized for excellence among all graduates at Education City, and the criteria for selection are strict. Natsheh was chosen from among more than 440 students — a record for Education City — representing VCU, Carnegie Mellon University, Georgetown University, Northwestern University, Texas A&M University, Weill Cornell Medical College, HEC Paris and University College London. As a President's Scholar, she was honored personally by Her Highness Sheikha Mozah bint Nasser Al Missned during Education City's Convocation.
7,372
Number of degrees conferred
7,372
Number of degrees conferred
56%
Six-year
graduation rate
86%
First-year
retention rate
15.3%
Increase since 2004 of African-American graduation rates
22%
Increase since 2004 of Hispanic graduation rates
2,020
Number of full-time faculty
2,020
Number of full-time faculty
20%
Percentage of minority full-time faculty
7
Number of faculty with membership in academies
7
Number of faculty with membership in academies