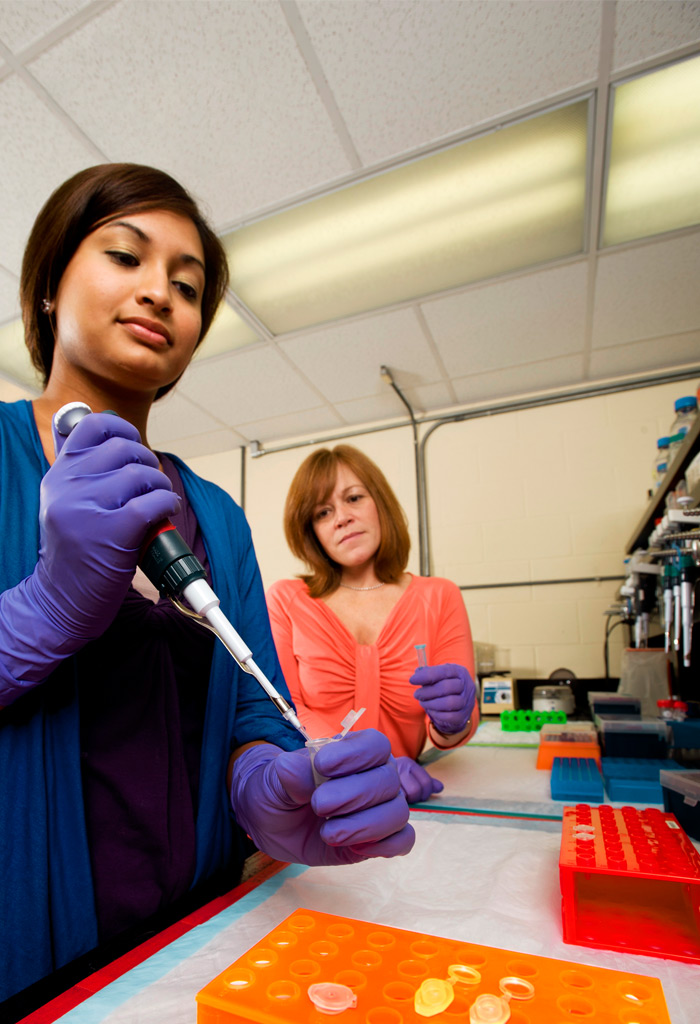 Innovation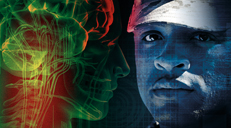 VCU earns $62 million traumatic brain injury grant
In August 2013, VCU was awarded a $62 million federal grant from the White House to oversee a national research consortium of universities, hospitals and clinics that will study what happens to service members and veterans who suffer mild traumatic brain injuries or concussions.
The types of concussions that will be studied include both combat injuries, such as those from blasts and bullets, and civilian injuries, such as those from car accidents, sports injuries and falls.
The researchers involved in the departments of Defense and Veterans Affairs grant have been studying brain injuries and working with Veterans Health Administration hospitals (including Richmond's Hunter Holmes McGuire VA Medical Center), the military and universities for many years. They now will share their knowledge and work toward solutions for TBIs. The principal investigator on the grant is David X. Cifu, M.D., the Herman Jacob Flax, M.D. Professor and chair of the VCU School of Medicine's Department of Physical Medicine and Rehabilitation and executive director of VCU's Center for Rehabilitation Science and Engineering.
"This is another significant milestone in VCU's ascent as a national-caliber public research university," says VCU President Michael Rao, Ph.D. "We recognize that an award of this magnitude only results from the research excellence that is fostered and encouraged across VCU."
Watch video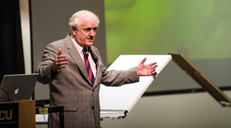 National Academy of Engineering recognizes VCU innovation
VCU's reputation as an innovative provider of real-world, hands-on education grew in 2012. The National Academy of Engineering selected the VCU da Vinci Center as an outstanding academic program in its Real World Experiences into Engineering Education publication that highlights best practices for schools seeking to create new programs. VCU is among 29 schools nationwide to be chosen for this prestigious recognition, including the likes of Cornell, Duke and the Massachusetts Institute of Technology.
Ninety-five nominations were reviewed by an NAE committee and judged based on seven factors: program creativity, innovation, attention to diversity (including geographic, institution, racial/ethnic and gender), sustainability plan, assessment of student learning, level of real-world experience and anticipated versus actual outcomes. The best practices outlined in the report include incorporating multidisciplinary team-based projects into curricula to help students develop skills in decision-making, leadership, written and oral communication, organization/time management, cultural awareness and problem-solving.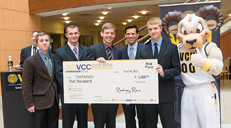 Competition jumpstarts entrepreneurship
As part of VCU's Third Annual Student Research Week in April, the Venture Creation Competition, a product design contest sponsored by the VCU da Vinci Center, drew its largest contingent of undergraduate and graduate student entries. The winners — mechanical engineering students John Swanson, Jonathan Marsh, Justin Dickerson and Matt Schell — designed a stair-climbing walker for elderly and mobility-impaired individuals. The design also took third place in a statewide competition hosted by Gov. Bob McDonnell.
VCU students are committed to entrepreneurship as a foundation of their education. A recent survey of VCU students showed that about half are interested in entrepreneurship in their lives, and as many as 7 percent have an idea they are already working to turn into a company — even before they graduate.
A valued university resource available to all students and recent alumni is the University Career Center. Under the leadership of Joseph Testani, appointed director in June 2012, the center provides services such as professional job search resources, career counseling, leadership development and experiential learning opportunities. In addition to serving students, the center works with VCU faculty members to help mentor and recruit students, as well as with local businesses and employers by fostering relationships that help students with job placement.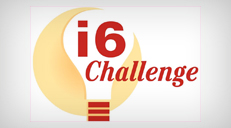 VCU joins statewide multi-institution research partnership as part of federal challenge
VCU's position as a cornerstone for innovation and economic growth is now anchored in a new statewide network designed to accelerate these priorities. The Virginia Innovation Partnership is one of only six multi-institution initiatives to win federal funding as part of the U.S. Department of Commerce's i6 Challenge in 2012, and already more than $250,000 has gone toward VCU-driven research projects.
The new partnership brings together educational institutions, corporations, investment capital and other resources in an effort to drive promising research discoveries through investing $800,000 annually in proof-of-concept projects. In early 2013, the program elicited 84 proposals from researchers representing 10 academic institutions throughout Virginia, 27 of which were tagged for oral presentations before an external advisory group. Among the 18 selected for funding, five were from VCU, garnering a total of $258,000 in funding — the highest dollar award total among all Virginia universities.
$248
million in
sponsored research*
$248 million
in sponsored research*
103
Invention disclosures
103
Invention disclosures
152
Patents filed
152
Patents filed
7
Patents issued
7
Patents issued
* Prior year totals were higher because of stimulus funding and the trusts of Arthur Graham Glasgow and Margaret Branch Glasgow.
11
Licenses/options
11
Licenses/options
16
Research support
agreements
16
Research support agreements
7
Number of faculty
with membership
in academies
7
Number of faculty with membership in academies
Top 200
research university in Academic Rankings of World Universities in Shanghai
Top 100
university nationally in National Science Foundation awards