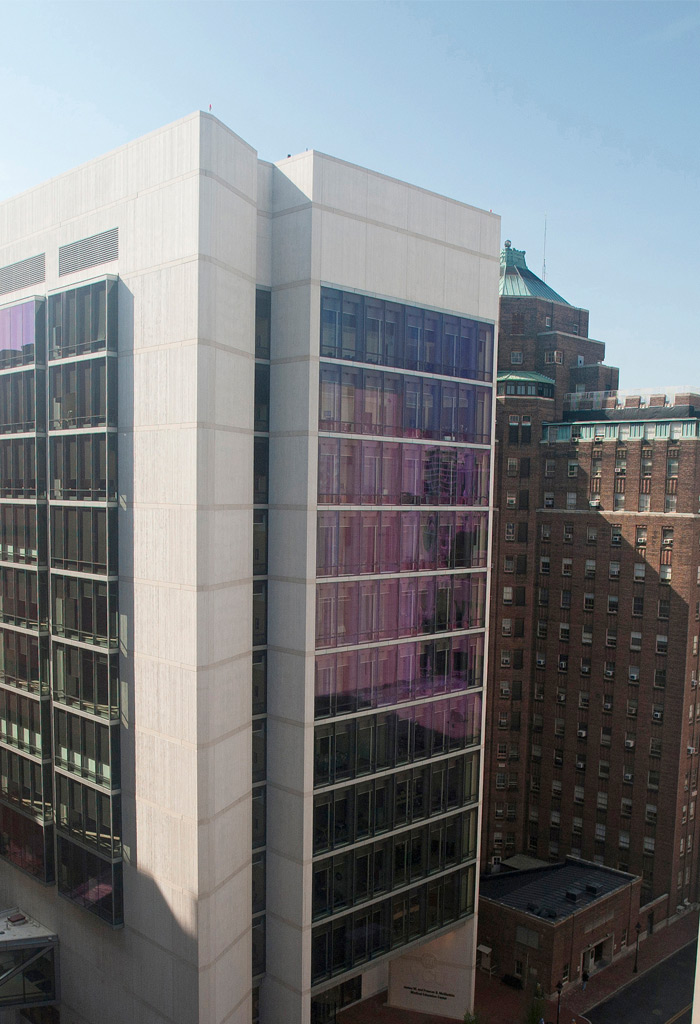 Framework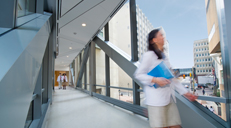 High-tech facility opens
VCU's master plan reflects its priorities as a national research university. One of our newest buildings, the remarkable James W. and Frances G. McGlothlin Medical Education Center, on Marshall Street near 11th Street, speaks to that commitment.
The McGlothlin Medical Education Center is a state-of-the-art facility for medical school teaching and learning, using collaborative space like no building before it at VCU. The striking structure, designed by the firm of the legendary I.M. Pei, includes adjustable classroom space, a technologically advanced auditorium, unrivaled simulation labs and more. The 12-story, 200,000-square-foot facility also houses space for the VCU Massey Cancer Center, and was made possible by a game-changing gift from James and Frances McGlothlin, who helped dedicate the building during Alumni Weekend.
Also in 2012-13:
Groundbreaking for 640,000-square-foot Children's Pavilion began on Sept. 10, 2012.
Construction finished on the high-tech Academic Learning Commons, on Linden Street and Floyd Avenue. Opened in fall 2013, the building houses VCU's School of Social Work, the Center for Teaching Excellence, Online@VCU, as well as numerous classrooms, collaborative study spaces and faculty offices.
The university broke ground for the West Grace Street Student Housing – North residence hall, on Grace Street between Shafer and Laurel streets, which opened in fall 2013 to house students in VCU Globe, a global education living-learning community.
Fundraising continued for the Institute of Contemporary Art, which will be built at Broad and Belvidere streets. Construction is anticipated to begin in 2015. Fundraising also began for a new practice facility for the women's and men's basketball teams, to be built near the Stuart C. Siegel Center.
A funding package was approved to renovate and expand the James Branch Cabell Library, which will begin in 2014.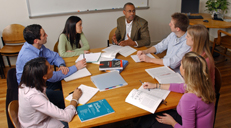 Initiative aims to make great even better
VCU set out to celebrate and reward its faculty, staff and students by launching the Great Place Initiative. In spring 2013, the program began its data collection phase, which included a climate survey, as well as focus groups and town hall meetings. In the summer, phase II began with assessment and planning of programs, policies and benefits. In fall 2013, the information was put into action, bettering the work lives of employees universitywide by changing the way the university does business.
Watch video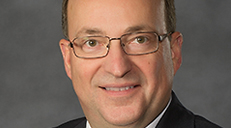 Finance division names new vice president
William R. Decatur, J.D., has been named vice president for finance and administration, where he will oversee the major operational units in the division. Decatur, formerly the executive vice president for finance and administration, chief financial officer and treasurer at the Rhode Island School of Design, will report to the chief operating officer.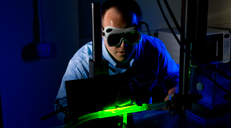 Quest Innovation Fund backs new initiatives
To fulfill the goals of VCU's Quest for Distinction and drive economic growth throughout the region, the university must rely on its status as a driver of innovation. For this reason, in fall 2012 a pool of funds, deployed and aimed at innovative pilot initiatives universitywide, was tagged the Quest Innovation Fund. The fund seeks to provide monetary support for faculty, staff or students to create a service, program or initiative that will improve what the university is doing in a creative manner.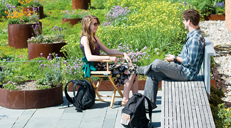 VCU garners attention for being green
In 2012-13, VCU's efforts toward being a model of sustainability did not go unnoticed. For the second consecutive year, VCU earned a top spot on the Universitas Indonesia's GreenMetric World University Ranking of sustainability, ranking No. 26 out of 215 universities worldwide. In addition, VCU ranked No. 10 out of 29 participating universities in the U.S.-based rankings.
The Arbor Day Foundation recognized VCU as a 2012 Tree Campus USA, adding another notch to the university's environment-friendly designations. The recognition stems from VCU's record-breaking Arbor Day event, when university members planted 290 trees — a record high for any Tree Campus USA event.
Additionally, three organizations separately recognized VCU for the university's ongoing environmental conservation efforts. First, VCU was an honorable mention selection for the 2013 Governor's Environmental Excellence Awards. Then, the Princeton Review included VCU in its annual listing of the country's greenest colleges. Finally, the James Green Building Council honored VCU as a leader in the public sector.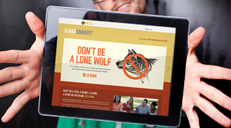 VCU introduces new RamSmart campaign
VCU launched RamSmart, a new website that pools all of the university's best safety-related information in one easily accessible area. Complete information on things such as safety and wellness programs, tips and contact numbers keep students RamSmart in their approach to living and learning at a premier urban research university. Ultimately, VCU strives to become the safest university in the nation.
Watch video