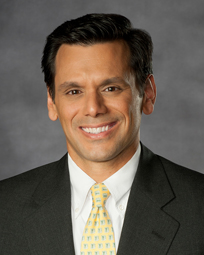 As our new tagline suggests, we make it real at Virginia Commonwealth University. As in, we make a real difference. Make a real impact. Make real progress.
We also celebrate real successes. And this year, there were many.
In FY 2011-12, we saw increases in research, scholarship and creative expression — projects that transform our world. We saw more students than ever earn their degrees — women and men who, in the VCU way, will be leaders and difference-makers in their fields. We saw record philanthropy and record construction that will accelerate our progress.
Our Quest for Distinction strategic plan directs priorities on student success at all levels, research that changes lives, an unwavering commitment to human health, and serving and engaging with the community around us. That is exactly what we did over the past year, as you will see throughout this annual report. I am so proud of the many contributions of my colleagues on the faculty and staff, and of our students, alumni and friends — only a small portion of which we could include here. I am grateful for their commitment to advancing VCU to the ranks of the premier urban research university.
It is time to see VCU for what it is, and that is a national university on its way up. A place where people from diverse backgrounds do more than just fit in; rather we embrace each other and learn from one another. A university where an education means more than completing 40 courses. A university that is a living laboratory for what is real.
We are doing this and more, and we are just getting started. As I begin my fourth year here, Quest will continue to guide everything we do and inform every decision we make. Our focus will remain improving our performance in every meaningful way, from enrolling motivated students and ensuring that they graduate, to appraising how we operate as a university and steward our resources.
As I reflect on a historic year at VCU, I marvel at the numerous successes of my colleagues. I am also excited to continue our determined drive to be among the nation's premier research universities. Why do I have such ambitions? Because I believe we can achieve them. Because at VCU, we make it real.
Sincerely,
Michael Rao, Ph.D.
President, VCU and VCU Health System