Interprofessional education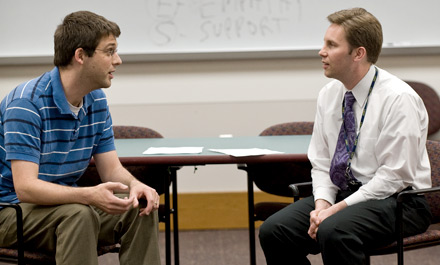 How can VCU train future providers to integrate into, as well as lead, a health care system that promises to be more team-based and interactive?
Thanks to a two-year, $200,000 award from the Josiah H. Macy Jr. Foundation, which named him one of five medicine and nursing faculty members nationwide in its inaugural class of Macy Faculty Scholars last summer, that is exactly what Alan Dow, M.D., assistant dean of medical education for the School of Medicine and assistant professor in the Department of Internal Medicine, is trying to determine.
Dow's project looks at how increased collaboration among health professionals can improve patient care and how to teach team-based competencies that foster effective interprofessional practice. He will create an interprofessional curriculum that other institutions can use, providing them with a toolkit for instruction and assessment to ensure successful adoption.
In just the past six years, Dow, who was featured in the March 2012 U.S. News & World Report for his work in interprofessional education, has created several unique programs that have significantly enhanced the learning experience of medical school students and residents.