Faculty success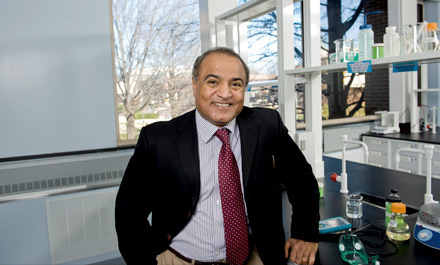 The university celebrated the many successes of our faculty members this year, including the following standouts.
M. Samy El-Shall, Ph.D., professor of chemistry, was one of 13 research scientists and engineers selected nationwide as a 2012-13 Jefferson Science Fellow at the U.S. Department of State. He is the fourth fellow from VCU to participate in the program. Cornell is the only other institution to have as many researchers and engineers participate as VCU.
Kathleen Graber, assistant professor in the Department of English who teaches in the creative writing program at VCU, received a 2012 Guggenheim Fellowship, as well as the 2011 Library of Virginia Literary Award for Poetry for her most recent collection, "The Eternal City." Her book earlier was named a finalist for both the National Book Award and the National Book Critics Circle Award.
Brian Cassel, Ph.D., a senior analyst in the VCU Massey Cancer Center, and Michael Pitts, D.B.A., associate professor of management in the VCU School of Business, both earned Fulbright awards for the 2011-12 academic year.
VCU School of Medicine physician Alan Dow, M.D., is one of five medicine and nursing faculty members across the country in the inaugural class of Macy Faculty Scholars.
Sandra Wilkins, professor and chair of the Department of Fashion Design, VCU Qatar, was named the "Best Professor in Fashion Designing" by the World Education Congress.
Jack Martin Brandt, disability policy specialist for the VCU Partnership for People with Disabilities, is an appointee for the President's Committee for People with Intellectual Disabilities.
Craig Larson, Ph.D., an assistant professor of mathematical sciences, received a Fulbright Research Grant to work at the University of Ghent (Belgium) on advancing research on graph theoretic independence number algorithms.
The International Society of Psychiatric Genetics named Kenneth Kendler, M.D., professor of psychiatry and human and molecular genetics, a recipient of the 2011 ISPG Ming Tsuang Lifetime Achievement Award. Kendler was also named as one of the state's Outstanding Scientists of 2012 for his contributions to the field of psychiatric genetics.
Yuichi Motai, Ph.D., assistant professor, electrical and computer engineering; Raj R. Rao, Ph.D., associate professor, chemical and life science engineering; Vishnu-Baba Sundaresan, Ph.D., assistant professor, mechanical and nuclear engineering; and Hu Yang, Ph.D., associate professor, biomedical engineering, all received the National Science Foundation's Faculty Early Career Development Award. Motai was honored for his "Engineering data-intensive prediction and classification for medical testbeds with nonlinear, distributed, and interdisciplinary approaches." Rao was recognized for his "Propagation systems for generation of chromosomally stable human embryonic stem cells." Sundaresan was honored for his "Ionic transistor devices for sensing and controlled actuation – An integrated research, teaching and community outreach program." Yang was recognized for his "Surface-engineering of monocytes for anticancer drug delivery."
Also receiving an Early Career Award, this one from the National Academy of Neuropsychology, was Juan Carlos Arango, Ph.D., associate professor in the Department of Physical Medicine and Rehabilitation.